26-07-03
Getting upon the ferry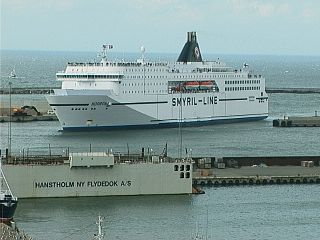 Saturday evening. I arrive finally in Hanstholm (Denmark) after 14 hours of driving. The "Norröna", the newly operating ferry of Smyril Line is just entering the harbour. It has gigantic dimensions - this is not a ship, it's a huge building complex.
While being in the waiting line of the ferry, I have plenty of time looking at the other off-road cars, talking to the people and their intentions and expectations for their trip to Iceland. Honestly I've never seen so many specially modified off-road cars together on one place. They come from all over Europe, campers, climbers, adventurers but I couldn't find any other divers. It reminds me an imminent invasion of Iceland. Should they be warned?
Finally we get upon the ferry. Should I have to through a nightmare this time? A strong advice to give: Never take a "couchette", it's a horrible, deadly narrow place to sleep and terribly hot among 9 people, down in the 2nd floor - remember the "Titanic" movie when it sunk... No way, I had to change the booking immediately. No matter of the costs, now while I'm writing these lines, I'm alone in my outside cabine on the 7th floor with a nice view on the sea - dreaming... [JK]