14-08-03
The pearl of Eyjafjördur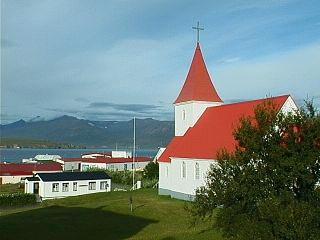 When the ferry entered in the harbour of Hrísey village, only 15 minutes left from the main land, Thorarinn was already waiting for us. Have you ever seen tractors as being taxis? Here on Hrísey they do so. Sitting at the back of the tractor, our stuff wedged between the legs, Thorarinn drove us through this small fishing village, still with paved streets and coloured houses that may remember you a scary movie. We moved into a nice weekend house up on a hill with a splendid view on the surrounding mountains. What an excellent place to stay for the following days.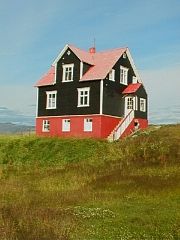 Hrísey is the second largest island of Iceland and the main income are fish farms and mussels of extra high quality.
We were focused on a unique dive site further south of the island. Thorarinn had organised a fishing boat and a skipper to head for Strytan, the impressive underwater thermal chimney. Strytan is 11.000 years old and rises from 70m up to 15m below the surface. It is barely covered with sea life, but lots of white deposits are the result of hot water streaming out everywhere around the chimney. A truly unique dive experience.
Later in the evening, Thorarinn took us to the mysterious northern part of Hrísey, Ystabaejarland, a privately owned nature reserve, where permission has to be obtained to pass through that area.
Here in 1953, the farm at the north side of the island burned down and a guy from Reykjavík bought it including 1/3 area of the island. He begun to plant trees, lupins and angelica. Besides he started breeding Eider ducks and prohibited shooting birds. Most of the people of the island were not pleased at all about this restriction as bird hunting was practised here since ever. But after 20 years, the inhabitants begun to see the positive effect on the nature, especially plants. The main income for the family living and working here are the 2.500 Eider duck nests they have to care about, especially for the high quality downs that are collected from each nest. Imagine now how much you need to get a kilogram of downs... [JK]