17-08-03
Herðubreið, the summit of the desert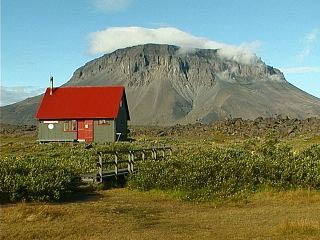 Where the glacier river Jökulsá á Fjöllum runs along the Ódáðahraun desert, the tiny little green oasis in between black sand is our starting point for the rather difficult climb of the Herðubreið, the 1682m high summit in the desert.
The ascent has to be done from the west side of the mountain. As the camp site is situated exactly opposite of it, we had to drive half around the table mountain on probably one of the worst tracks ever here. Almost impassable lava alternating with dusty pumice fields. Now I understand why in Iceland people modify their off-road cars to get extreme ground clearance.
A 1000m ascent seams to be easy going but this is a volcano, or better the inside left of it - as this table mountain erupted under the ice during the ice age.
The first part of the ascent are mostly accumulated large stones, then the worst and longest part over an exhausting steep incline with loose gravel before very large rocks indicate we were heading for the summit that still needs to overcome the last steep slope to 1682m. Right before reaching the top, a dizzy view into the crater is a nice surprise.
The panoramic view from the top down to the lava desert is that kind of amazing I simply forgot I was on planet Earth... [JK]
| | |
| --- | --- |
| | |
| The Queen of icelandic mountains | Where Iceland really begins |
| | |
| Hold tight to the grip | Difficult crossing of lava fields |