19-08-03
Askja - diving like on an alien planet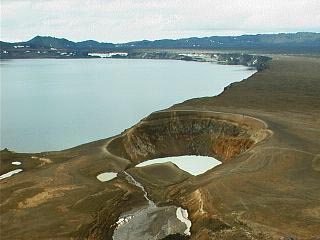 The weather didn't announce to be that fine anymore. But we had no choice, today should be the highlight of the expedition. Good that we had already carried the tanks and the dive jackets to the lake the night before, so we had only to walk once with the dive stuff left including the heavy underwater photo equipment.
The Askja volcano massif, located in the middle of the endless Ódáđahraun lava desert, is a huge caldera of 8km in diameter, inside the hot water crater lake Víti and besides of it, with 220m, Iceland's deepest and unspoiled lake, the Öskjuvatn.
Being probably one of the first divers ever at this deserted place, we had to guess the right and most interesting spots to dive in the Öskjuvatn. Indeed, no easy task, as we were strongly limited with the air in the tanks.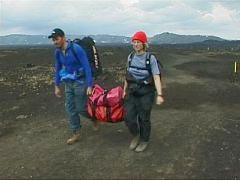 Obviously the gravel beach right under enormous rocks seamed to be the best place to dive. The hot steam that comes out of the gravel makes this place even more mysterious.
Further underwater the scenery became even more weird, the ground covered with green and yellow algae, in between rising bubbles indicating the hot steams continuing here. Huge rocks wrapped in a veil of hanging algae like out of a fairy tail, hard to believe this is real.
Later in the evening we couldn't resist swimming in the Víti, the hot water crater lake. What a boon this warm sulphureous milky murky water was to our body.
As the night came up, we still had to overcome the the 2,5 km trail back to the car, and this even two times carrying all of the 140 kg equipment back.
Although the exhausting efforts of the day, the beauty of this magic place out in the desert will remain in us for ever. We did it.
Now I understand why astronauts have been here before their trip to the moon... [JK]