31-07-03
Arriving in Island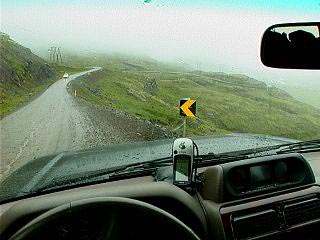 Eight o'clock this morning, we arrive finally in Iceland. I can't barely see the docks of Seyđisfördur through my cabine window thus it´s raining and foggy outside. Welcome to Iceland, I should have known it.
Mentionable is that a tax for Diesel engines has to be payed in advance per week, this because Diesel fuel is very cheap here and is sold free of taxes at the petrol stations in Iceland.
Up on the road to the mountains, I pass along Stephan, a guy from the Black Forest in Germany, he told me yesterday evening about his forthcoming bike trip on the ring road.
The weather is awful and I feel lucky this time that I'm quite comfortable in a car.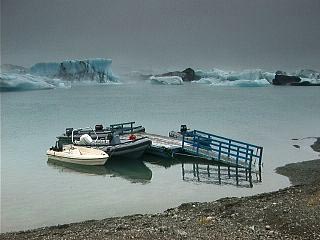 I hope to reach Reykjavík in two days to pick up Pascale at the airport and meet some divers in town. On the way up in the mountains I can't get out of car that strong the wind blows, that soaking the rain falls.
Later in the afternoon, the cloud cover tears open and the warm sunlight rises up high hopes for the next weeks.
Suddenly, south of the Vatnajökull glacier and close to the ring road, bizarre blue-white icebergs drift in a glacier lagoon - the Jökulsárlón - a scenery like out of a science fiction movie.
My camp for tonight will be in Skaftafell, the National Park south of the giant Vatnajökull glacier close to the moraines. Welcome to Iceland, now I can remember... [JK]