02-08-03
Reykjavík - or Ingólfur Arnarson's settlement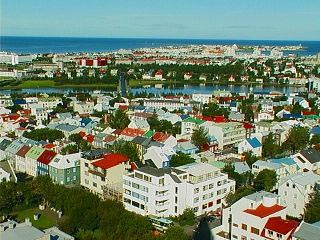 Iceland remained unhabitant much longer than most other habitable places on earth. The viking Ingólfur Arnarson had built the first settlement in that bay, known today as Reykjavík, the capital city of Iceland. Actually it's a fast growing town, as year by year more and more people out of the highlands move into town. The main tourist attractions like Geysir, Gullfoss and Thingvellir are quite close by car.
Probably the most impressive building is the church (Hallgrímskirkja) who's architecture remembers volcanic basalt columns, the geological origins of Iceland. In front of the monument, the viking Leifur Eiríksson.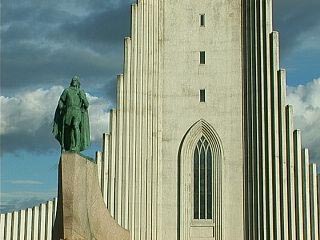 Walking through the main shopping street in a sunny evening may have a southern flair, quite hot for such a town up in the north. Hot are the prices as well. I went from one restaurant to the other but the prices were still the same, you must count about triple the prices what we are used to. Definetely not an appetizer! Then I realized how much pressure hunger exercises on you. I finally surrendered.
The warm evening sunlight is most beautiful along the seaside at the harbour, where some modern art remembers the sun rowers.
Although straight forward modern art is omnipresent in town, anyhow some funny curiosities may be found as well like I did in the backyard of a building in the main shopping street. I let you guess what this strange museum has to show... [JK]