06-08-03
Coloured mountains, black lava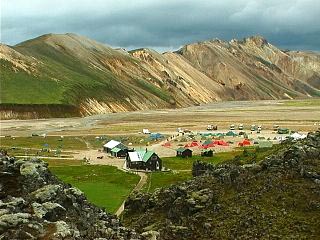 A mountain hike dominated by contrasts starts from the camp site in Landmannalaugar, a landscape scenery like painted.
Our camp is situated right under a 40 m high black lava stream, that stopped abruptly in this valley. First target this morning is the summit of a blue-grey glimming mountain, called Bláhnúkur, that offers an amazing panoramic view on the colourful liparit mountains and slopes.
Downhill we run through a brown-orange coloured canyon that ends near some hot volcanic activity area at the base of another mountain tinted in all rainbow colours before we return back over the impressive black lava stream.
The bath in the natural hot water pool near our tent was a well earned relaxation in the evening. Another way to explore icelandic waters without diving... [JK]