09-08-03
Diving the Westmen Islands
(Photos by Finnur Frimann)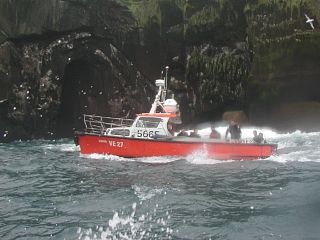 In the early hours of the 23 January 1973 the most dramatic event happened on the Westmen Islands. An eruption begun on Heimaey and a 1600 m fissure opened on the eastern side of the island. Even now people talk about the past before and after the eruption. An irreparable loss of properties was the direct consequence of this dramatic volcanic eruption.
To explore the Westmen Islands' underwater world, we joined the Icelandic Scubadiving Club for a weekend. Very quickly we found some good friends that were very helpful to us. Thanks Matthías and Martin.
The Westmen Islands are in the south of Iceland, three hours away with the ferry. Our cars and the compressor of the club were on board. However few of us had wished they weren't, that bad were the sea conditions.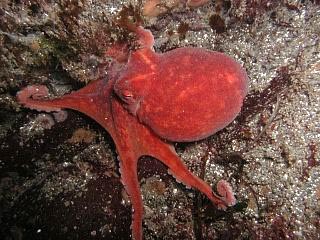 During this season especially the octopus is the main attraction. But we shouldn't forget the rich decorated walls and volcanic rocks of this exceptional underwater world.
The dive boat trips were those of the hard ones. But as a lucky compensation we observed each time groups of Orcas hunting the herings. A real feast. That moment I wished I could have joined them in the water as I did some years ago in Norway.
Discovered by the vikings and fought back against the own slaves descending from the west, the islands kept their orignal name. Ingólfur Arnarson knew well about this treasure... [JK]