12-08-03
Town of the thousand islands
The Snaefellsnes peninsula is renowned for its natural beauty and remarkable wildlife. Bird watchers and hikers will be pleased in this area. So we did when observing birds and doing some original sound recording to remember this place.
Stykkishólmur is probably the best destination to start visiting the peninsula. As well we had it on our wish list of our dive sites, as it has been referenced several times by other divers some days ago.
In the best fish restaurant in town - maybe the best in Iceland - we have met the owner and chief cook Sumarliði Asgeirsson that evening. For the next day, that he took off for us, he organized a boat and a skipper. Together with his son and a friend we left for diving among the thousand islands.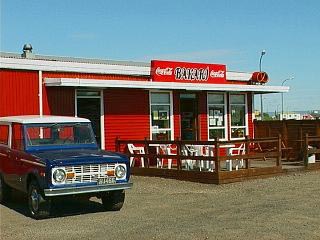 Diving in between these countless small islands turned out to be a real challenge as the current was extremly strong, somehow like as a razor sharp limit while just putting the head into it.
The walls are marvellously decorated but the visibility was unfortunately fairly reduced as the sea becomes very rich in plankton during such a strong current.
A great day out among these islands inhabited by gulls and countless puffins. A thousand islands... [JK]